X-tron 
is truth Foldabot and he wants a partner like a tournament as a fighter and he committed these 4 guys to tag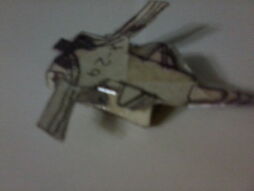 like a teamwork.In water area to reach their hands 
Alon & Agos
 are helping together at the Philippine Sea,in earth area to teamwork with 
Ukay
 and grabbed hands to use sword and attacking Lutabot,then fire area 
Liyab
 to teach his summon with his torque boosts to transformed as Grumman X-29 jet mode to keep his speed and concentrate his test and finally wind area was helping by 
Tutubi
 was performed with atomic twister and traps Lutabots to damages around armored-plate and crashes to win this battle.
Abilities
Edit
FOLDABOT MODE
His sword to damages enemies.
His hands to magnet hands with engage magnetized.
His eyes to use laser beam and attack enemies.
JET MODE
Maximum speed to reduces strength.
Supersonic with pointy-nose to blasts enemies.
Flammable-tackled to damage like spear.