Woulfticon is a stealth kick-butt Foldabot armed with a machine guns that turns a bullet into flame shots and a reload to use any bullets to blasts enemies from breaks LUTABOT chest attacks.He targets with sharpshooter set rank,despite his maintainance by Violeta's show her mercy and she doesn't exist her change anything they can realized to teach her lesson.He transformed into Focke-Wulf Fw 190 airplane mode.
Abilities
Edit
His hands turns into survivor claws and scratch enemies.
His machine gun with bullets turns into flame shots and shoots enemies.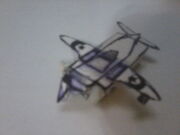 Ad blocker interference detected!
Wikia is a free-to-use site that makes money from advertising. We have a modified experience for viewers using ad blockers

Wikia is not accessible if you've made further modifications. Remove the custom ad blocker rule(s) and the page will load as expected.