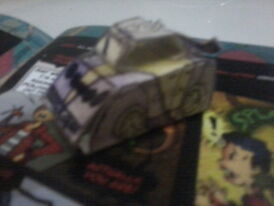 Wedstream is a lucky car Foldabot.
He was a powerful enforcer race car to fight bad robots for making them under control and wash away those imbeciles out of the carnage. His raing style have the paint job was perfection and seems very important to lose all sinister but he's a friendliest Foldabot with one like to paly kids like Bughaw.
It transformed into racing car in vehicle mode.
Horsepower: 450hp
Body style: 2-door notchback
Engine: 2.0 L Turbo
Transmission: 5-speed manual
Abilities
Edit
Spoiler acts like a trident.
His powers have safeguard.
He has waterstream to wash all lutants.
He has racing tuned engine.
Ad blocker interference detected!
Wikia is a free-to-use site that makes money from advertising. We have a modified experience for viewers using ad blockers

Wikia is not accessible if you've made further modifications. Remove the custom ad blocker rule(s) and the page will load as expected.