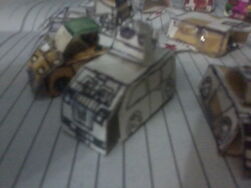 Wagonouge is a wise wizard Foldabot.
He has safeguard to protect the city, his flash to make night vision of unseen and he flash with camera located his headlights to blinds enemies, and his ultra sound megaphones to make supersonic and make with his kids to loud from attacking enemies.
His personality have serious, cheerful and most of all rendesvous to fight enemies of his own.
It transformed into microvan kei car in vehicle mode.
Horsepower: 30hp
Body style: 5-door microvan
Engine: 356 cc
Transmission: 4-speed manual
Abilities
Edit
Flash blasters.
Safeguard can protect from getting attacked.
Megaphone on his head to make powerful supersonic.
He has unleeaded engine motor.
Ad blocker interference detected!
Wikia is a free-to-use site that makes money from advertising. We have a modified experience for viewers using ad blockers

Wikia is not accessible if you've made further modifications. Remove the custom ad blocker rule(s) and the page will load as expected.