Violeta
is a Lutabot that appeared in the may 2012 issue of K-Zone.
VIOLETA is a prickly kick-butt 'bot armed with a spoiler that turns into a bow and an arrow made from concentrated LUTANT toxins. She shoots with diabolical accuracy,despite her impaired optics. In car mode,she has a conceled blade-shooting air dam that shoves anything and everything out of her way.
INTELLIGENCE: 4
ENDURANCE: 2
STRENGTH: 3
SPEED: 5
SPECIAL SKILL: 3
Abilities
Edit
LUTABOT MODE:
A Lutant splat is found in VIOLETA's chest plate.
She has an arrow made from LUTANT toxins.
She has ultra-enhanced audio receptors.
SPORTS CAR MODE:
She has a sport-tuned motor.
Her air dam shoots out as wide blades.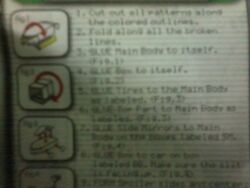 Violeta is Spanish for Violet.
At the back of Violeta, her plate number is "VOLVC". This is a reference to her creator Volvic Reverente.
Though it says "Sports car", Violeta is actually a "Pagani Zonda"
violeta is the only sporticon who have multiple weapons
Violeta could use some of patterns in the card as weapons such as: toxic rope -whip, car doors-boomerang or sword, arrow- spear.
if you put a slit in violeta's toxic rope and slide it to the spoiler vertically with it will look like a crossbow
She along with the other Sporticons are turned into foldabots by Buhawi.
Ad blocker interference detected!
Wikia is a free-to-use site that makes money from advertising. We have a modified experience for viewers using ad blockers

Wikia is not accessible if you've made further modifications. Remove the custom ad blocker rule(s) and the page will load as expected.