Vikzeroid is a skulduggery British accent roadster car and the worst Lutabot that takes any hot rod cars. Vikzeroid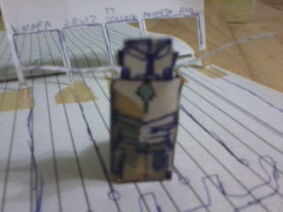 holds a bio cannon given with his partner Xi-Takk as a blacksmith.
He can terminate all Foldabots and gets to victory for the Lutabots or pretends to be fellow lutabot was a taxi disguise.
He transformed as a 1932 Ford De Luxe Coupe V8.
Abilities
Edit
Lutabot Mode
Edit
The lutant splat on his chest plate.
His kicks while they attacks nearby stuns with iron boots.
Bio cannon that he armed and blasts with powerful stench.
Roadster Mode
Edit
With a passenger as a taxi to victimize passenger with a carbon monoxide.
Headlights with night vision.
Cannon Mode
Edit
Bio cannon that has one shot and blasts sewage.
Ad blocker interference detected!
Wikia is a free-to-use site that makes money from advertising. We have a modified experience for viewers using ad blockers

Wikia is not accessible if you've made further modifications. Remove the custom ad blocker rule(s) and the page will load as expected.