Verdetron
is a Sporticons that appeared in the April 2012 issue of K-Zone.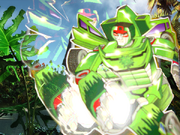 VERDETRON,who can camouflage himself in lush greenery,has a secret fondness for the environment which clashes with beliefs of his fellow polluting lutabots and makes him question his allegiance.careful not to endanger his precious paintjob,he cruises with utmost care and prefers to avoid trouble as long as LU-SHO doesn't notice.VERDETRON combines with his fellow SPORTICONS to form the massive SPORTICUS
INTELLIGENCE:5
ENDURANCE:3
STRENGTH:2
SPEED:5
SPECIAL SKILL:3
Abilities
Edit
Lutabot MODE:
A Lutant splat is found in Verdetron's chest plate.
He has a lethal fist blaster .
He can go camouflage among plants and trees.
Sports car MODE:
He has a sport-tuned motor.
His air scoop conceals CO-spewing mufflers inside
Verdetron`s root word Verde means green in spanish
Verdetron`s plate number "DANP".
Though it says sports car he is base on the Enzo car ."
He along with the other Sporticons are turned into Foldabots by Buhawi.
Ad blocker interference detected!
Wikia is a free-to-use site that makes money from advertising. We have a modified experience for viewers using ad blockers

Wikia is not accessible if you've made further modifications. Remove the custom ad blocker rule(s) and the page will load as expected.