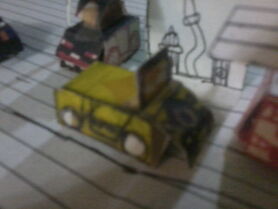 Vamoszire is a kei truck Foldabot. He's the gunner that supports with Sergeanite and his military friends to convoy them. He's look pretty supportative and never serious overall he seems very unpainful to get protects from no suffering.
Horsepower: 23hp
Body style: 2-door jeep
Engine: 356 cc Honda eh engine air-cooled 2-cylinder sohc
Transmission: 4-speed manual
Abilities
Edit
Can wield a shotgun.
Can wield a gun.
Can wield a rifle.
He has carbon armor to protects and defense scratches.
Ad blocker interference detected!
Wikia is a free-to-use site that makes money from advertising. We have a modified experience for viewers using ad blockers

Wikia is not accessible if you've made further modifications. Remove the custom ad blocker rule(s) and the page will load as expected.