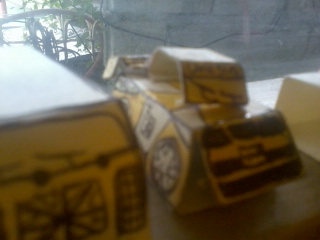 Unisianator is a stealth racing car Foldabot has one dexterous emotion.
He has no fearless, but he's a enthusiastic and energetic for the Foldabots but he doesn't cares know that he should to defeat Lu-Sho all by himself and makes him pay to pay.
He transformed into sports car in alternate mode.
Nissan Unisia Jecs Skyline 99'
Horsepower: 719hp
Engine: 2.6 L
Body style: 2-door coupe
Transmission: 6-speed manual
Abilities
Edit
His spoiler acts like a triple staff and he has one shot with beam.
He has racing-tuned motor.
He has safeguard to protect his paint job.
He has ridged armor plate protected from getting hit.
Ad blocker interference detected!
Wikia is a free-to-use site that makes money from advertising. We have a modified experience for viewers using ad blockers

Wikia is not accessible if you've made further modifications. Remove the custom ad blocker rule(s) and the page will load as expected.