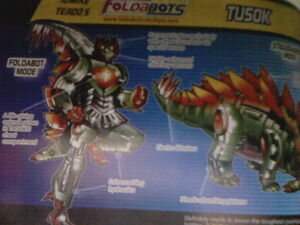 Tusok is a green female Foldabot that debut in September 2009
Appearance
Edit
Tusok is a green foldabot with red hands. She has red plates on her green stegosaurus body. Like all Foldabots, she has a life giving agimat on her chest.
Intelligence
Endurance
Strength
Speed
Special Skill
Abilities
Edit
Tusok means "spike"
Tusok has an error: In her artwork, her tail is the one behind her head thus making her transform backwards. In her toy version, her head is the one behind the stegosaurus head.
Tusok's lower area resembles a skirt.
Tusok is parallel to Sisid:
Both are the only female in their team.
Both debut in the same month: September
Both have spikes on their heads.
Both look male if their toy versions were held far enough.
Ad blocker interference detected!
Wikia is a free-to-use site that makes money from advertising. We have a modified experience for viewers using ad blockers

Wikia is not accessible if you've made further modifications. Remove the custom ad blocker rule(s) and the page will load as expected.