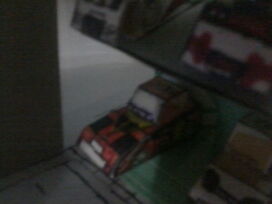 Turboquad is a speediest red and yellow thunder-style Foldabot.
It has a speed record to beat Lutabots from getting challenge in his session race and finally makes the Lutabots lose with his turbo torque while he energize his speed has life-giving agimat on his chest compartment. His personality have hustler, carelessly and desperately with his own logic drive skills.
It transformed into sports car in vehicle mode.
Lotus Esprit Turbo HC 87'
Horsepower: 218hp
Body style: 2-door coupe
Engine: 2.2 L
Transmission: 5-speed manual
Abilities
Edit
His torque speed to energize his life-giving agimat.
He has glazed rear hatch.
His muffler acts like a flame rifle.
His tattoo on his hood energize his lightning.
Ad blocker interference detected!
Wikia is a free-to-use site that makes money from advertising. We have a modified experience for viewers using ad blockers

Wikia is not accessible if you've made further modifications. Remove the custom ad blocker rule(s) and the page will load as expected.