Tu-Lock
is a
Foldabot Diadrone
created by
Landas
.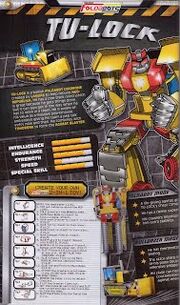 Tu-Lock is a bullish Foldabot Diadrone created by Landas to help rebuild Neo-Republika. He has a one-track mind which is great because he get things done, but it can also get in the way when he has to work in a team. He is aware of his value as a massive powerhouse and enjoys giving his team a pep talk every now and then. He combines with Tinidrone to form the Agimat Blaster.
Abilities
Edit
Has a dense superstructure
His crawlers interlock to give him extra stability
Has thermostatic plating
Has razor-sharp edges of his plate double serve as his offensive weapons.
His plate can hold concentrated agimat energy.
Intelligence: 4
Endurance: 5
Strength: 4
Speed: 1
Special Skill: 4
Ad blocker interference detected!
Wikia is a free-to-use site that makes money from advertising. We have a modified experience for viewers using ad blockers

Wikia is not accessible if you've made further modifications. Remove the custom ad blocker rule(s) and the page will load as expected.