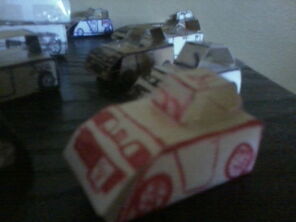 Troderaid is a genius Foldabot.
He was a powerful to kill Lutabots make him down from enrages. He has tested the effects of his powerful agimat with his bandages on the Neo-Republika people. Lack of size with his duel personality and being thrush to fight back and racing tactics leave him the enemies vulnerable.
It turns into kei car in vehicle mode.
Horsepower: 86hp
Body style: 3-door hatchback
Engine: 656cc
Transmission: 4-speed automatic 
Abilities
Edit
Photon blasters.
He has bandage beam glows with headlights or turn into Foldabot mode with two hands.
He has powerful armor protect from getting dirty.
An agimat-living on his chest mall.
Ad blocker interference detected!
Wikia is a free-to-use site that makes money from advertising. We have a modified experience for viewers using ad blockers

Wikia is not accessible if you've made further modifications. Remove the custom ad blocker rule(s) and the page will load as expected.