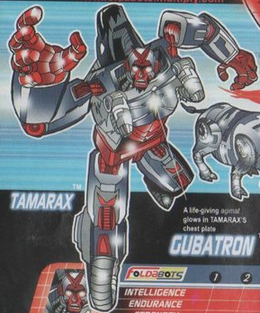 Tamarax
is the leader of the
Gubabots
.
Tamarax is the leader of the Foldabots sub-group called the Gubabots and turns into Gubatron's torso.
Intelligence: 3
Endurance: 4
Strength: 5
Speed: 2
Special Skill: 4
Abilities
Edit
Foldabot Mode
Edit
A life-giving agimat glows in Tamarax's chest cavity
Tamaraw Mode
Edit
His dense exostructure makes his hide impenetrable during battle.
He can breathe fire.
Ad blocker interference detected!
Wikia is a free-to-use site that makes money from advertising. We have a modified experience for viewers using ad blockers

Wikia is not accessible if you've made further modifications. Remove the custom ad blocker rule(s) and the page will load as expected.