TALAS is a brown,yellow and orange Foldabot who belong to the sub-group likasbots and turns into
the arms of likastron. She transforms to a Phillipines porcupine. She have the power to shoot spikes fr
-om her arms.She can also shoot all her skipes from her whole body is she turns into porcupine form.
She have appeared in K-zone issue no.94 in May 2014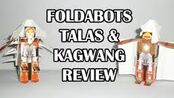 Talas with her fellow likasbot
Kagwang
BIO
-TALAS is LIKASBOT with an explosive personality.
In porcupine mode,she gather,s heat
from the earth,s core and stores it
as potencial energy in robot mode.
She hurl skipes at any LUTABOT who
dare,s disturb her her forest sanctuary.
She turn into LIKASBOT,S arm
TRIVIA
-TALAS mean scrouge in Filipino
-She is created by Lester Bernaldez
- She change gender from boy (Lester design) to girl (K-ZONE design).
Ad blocker interference detected!
Wikia is a free-to-use site that makes money from advertising. We have a modified experience for viewers using ad blockers

Wikia is not accessible if you've made further modifications. Remove the custom ad blocker rule(s) and the page will load as expected.