Swishlash 
is a generosity and enthusiastic Foldabot.
He is one spaceman or astronaut who lives in moon and taking trip in J.Ruiz Station 2 in Neo-Republika that he lives other countries. He is so generosity and very unconsciousness over reacting is well-being Foldabot, that they know Lutabots better one or another. He transforms as three door hatchback small car in alternate mode.
Horsepower: 104hp
Body style: 3-door hatchback
Engine: Internal combustion engine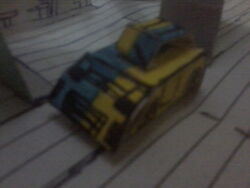 Abilities
Edit
His charge beam that blasts enemies.
His hands had a vice grip to grappled lutants.
An agimat living on his chest carbon plate.
He has powertrain engine motor.
His kicks have smash attacks.
Ad blocker interference detected!
Wikia is a free-to-use site that makes money from advertising. We have a modified experience for viewers using ad blockers

Wikia is not accessible if you've made further modifications. Remove the custom ad blocker rule(s) and the page will load as expected.