Sundo appeared in the Foldabots Toy Book 3. He is the cover Foldabot.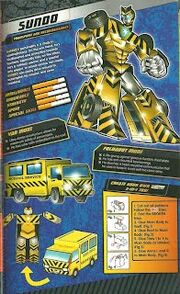 Sundo's personality is a study in contradictions: On the one hand,he's kindhearted and protective towards humans,especially kids; on the other, he's a ruthless warrior and a martial arts expert. In school service van mode, Sundo can easily drive around to accomplish his missions and serve mankind.
Appearances
Edit
Sundo is a yellow and black Foldabot that appeared in the Foldabots Toy Book 3. In the comics, the Sundo clones were created to fight off the evil Rangkada clones.
Intelligence:4
Endurance:3
Strength:3
Speed:3
Special skill:2
How to make SUNDO
Edit
1.Cut out all patterns.Follow the red lines
2.Fold the broken lines
3.Glue Main Body to itself(Fig.1)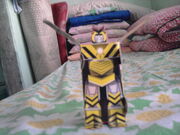 4.Glue Roof to Main Body(Fig.2)
5.Glue Tires 1 to 4 to main body as labeled.(Fig.3)
6.Glue Arms L and R to main body.(Fig.4)
Sundo means "Bring Home"
If Sundo's head cover was removed, he bears a resemblance to Bumblebee from Transformers.
Sundo(along with Landas)is the only Foldabot to debut in a Toy Book instead of K-zone
Sundo was revealed to be in ToyBook 3 when a fan asked Jomike Tejido in Facebook.
Sundo is the first Foldabot with clones, however, since all but one clone was destroyed by Rangkada's clone army, only one Sundo remains to this day.
Sundo's alternate mode resembles a Mitsubishi L300 van.
Sundo is the Second officail fan-made FOLDABOT.

The first one being ASTIG 2.

However,ASTIG 2 only had a new paint job.
Ad blocker interference detected!
Wikia is a free-to-use site that makes money from advertising. We have a modified experience for viewers using ad blockers

Wikia is not accessible if you've made further modifications. Remove the custom ad blocker rule(s) and the page will load as expected.