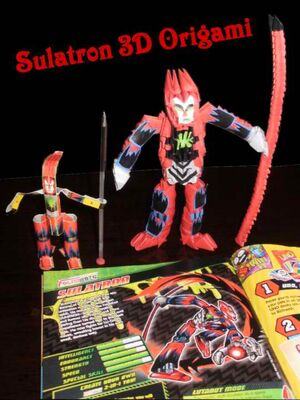 Appearance
Edit
S
ulatron is red and silver lutabot that apeared in the July 2010 issue of K-Zone .He has a mystical staff that can release a dragon. He turns into a red ballpen.
Abilities
Edit
-Has a life giving pollutant in his chest.
-Can summon a powerful dragon from his staff.
-As a pen, he writes vicious statements
Sulatron's root "Sulat", means write.
Sulatron along with Guhitron are barely detailed in the comic due to them being very small.
Ad blocker interference detected!
Wikia is a free-to-use site that makes money from advertising. We have a modified experience for viewers using ad blockers

Wikia is not accessible if you've made further modifications. Remove the custom ad blocker rule(s) and the page will load as expected.