Spritzeroid 
is a bigger-than 
Kapre
 and he was the member of Kapre's group.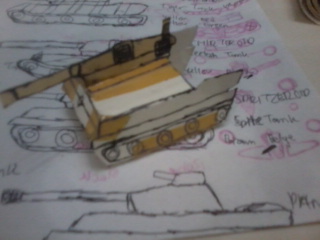 His own douses that self-proclaimed with the military armies and he lends that the city is protected to fight Lutabots and he feuding everyone in this city by attacking Sigwa,Verdetron and even gangsters to plan this menace and provide his mission to compete against them each way.
He transformed into Sprite tank or German Type-III Tank.
AbilitiesEdit
FOLDABOT MODE:
His armed into gatling gun that shots any enemies.
His second armed into machine guns that shoots the enemies.
An agimat-living that protect his chest plate.
MEDIUM TANK MODE:
His boosters that his speed 5-gear transmission.
Large cannon that provide a huge blaster.
Ad blocker interference detected!
Wikia is a free-to-use site that makes money from advertising. We have a modified experience for viewers using ad blockers

Wikia is not accessible if you've made further modifications. Remove the custom ad blocker rule(s) and the page will load as expected.