Sparkerzure 
is a loyalty and good-sport Foldabot that transforms into Mercedes-Benz E 55 AMG in alternate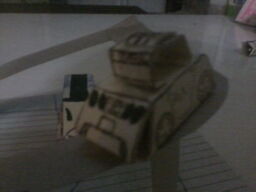 mode. Like all the other Foldabot Minis, he teaches to be the one robot skills, he has a life-giving agimat on his chest compartment. He is logical, trusty, patient and specialized sound modes and the powerful tactical specialist among the Foldabots. His passengers to looking that 
Xi-Takk
 was seems the passengers and screams the victim, so Xi-Takk giggles and runs away and he chases off to Xi-Takk that no one like smoke inside, but he has air-conditioner cooler inside and take the passengers heals with fresh air-conditioner.
Horsepower: 469hp
Style: 4-door sedan
Engine: V8
Transmission: 6-speed automatic
Abilities
Edit
Sparks that points enemies and seems decreased heals.
Amplifiers emit antigravity energy beams for levitation.
Decelerator flares can slow down moving objects.
Can wield a pistol gun.
Friends with Patrol that makes a partner.
He has supercharged V8 engine-motor.
Sparkerzure's alternate mode is more of Merceds-Benz car.
Sparkerzure means spark or azure.
Sparkerzure another mean "alipato".
Ad blocker interference detected!
Wikia is a free-to-use site that makes money from advertising. We have a modified experience for viewers using ad blockers

Wikia is not accessible if you've made further modifications. Remove the custom ad blocker rule(s) and the page will load as expected.