Skyscher 
is a blue, purple and white Foldabot and he's the super car was a true car or even he's a powerful,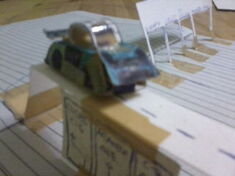 fasten, and haste Foldabot.
Appearance
Edit
Skyscher appears as a blue, purple and white Foldabot that transforms into sports car in alternate mode. May not the weirdest bot' like Sporticons and the rest of Lutabots can cause anything races since he fought to a challenge with Rojotron and Azurenator. He has the life-giving that glows in his chest plate. His tackle that can attack like a spear and he's fast turns into car mode, he has turbo speed and he's really speedless, making him a bit of scratch of road and takes drive.
Abilities
Edit
He has a twin-turbo motor.
Micro-enhanced vehicular body armor.
His lower vehicular allows him to emit seismic blasts with quick flames of fire and burns enemies.
He has 6-speed semi-automatic dual clutch transmission.
Skyscher's root "Sky" which is upward.
Though it says "Sports car", Skyscher is actually a [1]
Ad blocker interference detected!
Wikia is a free-to-use site that makes money from advertising. We have a modified experience for viewers using ad blockers

Wikia is not accessible if you've made further modifications. Remove the custom ad blocker rule(s) and the page will load as expected.