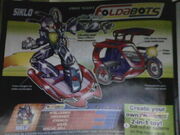 Siklo is a purple Foldabot that appeared in the November 2007 issue of the K-Zone magazine.
Appearance
Edit
Siklo appears as a purple foldabot that transforms into a tricycle in alternate mode. Like all of the other Foldabots, he has a life-giving agimat that glows in his chest compartment. He may be a humble tricycle in vehicle mode, but in Foldabot mode, he's one mean speed machine.
He is almost as fast as Foldabot Karera when he's on his hover board. He teams up with Kislap to form the unstoppable Foldabot team.
Abilities
Edit
Hover board has turbo chargers for better acceleration.
Ultra dense, extremely tough exostructure.
Enhanced tire grips adjust to any terrain.
Special lenses give him X-ray vision that allow him to detect foes hiding around corners.
He can fire audio disruptor waves from his arm compartments that can store numerous amazing gadgets.
Intelligence: 3
Endurance: 4
Strength: 3
Speed: 4
Special Skill: 3
How to Make Siklo
Edit
Cut out all patterns. Follow the

green broken lines

.
Fold the

violet lines

.
Glue the Main Body to itself.
Curl Wheel A and glue it to itself on the

red area

to form a circle. Repeat with Wheels B & C.
Glue all Wheels.
Glue Arms to Main Body.
Glue Part A behind robot head.
Create the Cab by gluing the four flaps to the blue corners.
Glue the Roof on the Cab.
Siklo's name is probably the word "motorsiklo"(Tagalog for motorcycle) without the word "motor".
Siklo is the first Foldabot where a part of their Alt. mode isn't a part of the Foldabot mode.
Ad blocker interference detected!
Wikia is a free-to-use site that makes money from advertising. We have a modified experience for viewers using ad blockers

Wikia is not accessible if you've made further modifications. Remove the custom ad blocker rule(s) and the page will load as expected.