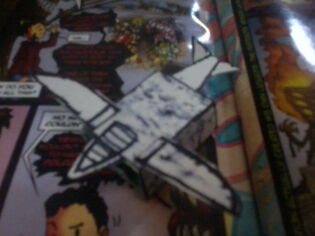 Scrochage is a racing plane Lutabot.
He wants to win this champion racing and they lose those puny Foldabots to impressed them, he may not those existence, his personality have obnoxious, high-strung and jealousy for making blasts with homing missiles made form lutant spikes.
It transformed into racing airplane in alternate mode.
AbilitiesEdit
Homing missiles made from pollutant attacks.
Machine guns made of pollutant bullets.
Speed spinning skills.
Powerful rockets.
Anti-battleship bombs.
Ad blocker interference detected!
Wikia is a free-to-use site that makes money from advertising. We have a modified experience for viewers using ad blockers

Wikia is not accessible if you've made further modifications. Remove the custom ad blocker rule(s) and the page will load as expected.