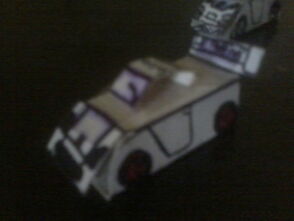 Saleentinel is a master sergeant heroic-bravery Foldabot that deals to race or fight for battle that he is one sports car like other Foldabot cars especially evil doers Sporticons that fight for rude.
It has special technique has spinning technique, his blade to cut enemies and cross to his side by side form one another to choose.
It transformed into sports car in alternate mode.
Horsepower: 657hp
Body style: 2-door coupe
Engine: twin-turbocharged V8
Transmission: 6-speed manual
Abilities
Edit
He has wheels to make drifting style.
His spoiler acts like a katana.
His spinning technique to make confused enemies.
An agimat-living on Saleentinel's chest plate.
He has sport-tuned motor.
Ad blocker interference detected!
Wikia is a free-to-use site that makes money from advertising. We have a modified experience for viewers using ad blockers

Wikia is not accessible if you've made further modifications. Remove the custom ad blocker rule(s) and the page will load as expected.