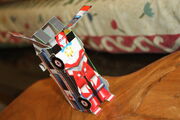 Sagip

Chief Medic
Statistics
Gender
Male
Alternate Mode
Ambulance
Appeared In
March 2010
Preceded by
Tambak
Followed by
Trosotron
Sagip is a red, and white foldabot that appeared in the March 2010 issue of K-zone and also came from the pretzel box.
Appearance
Edit
Sagip appears as a red and white foldabot. Sagip transforms into an ambulance. Like all of the other foldabots, he has a life-giving agimat in his chest compartment. He takes care of all the foldabot repair jobs, even on the battlefield. Equipped with the latest techno-repair kit in his storage bin. His front and rear sirens act instantaneously to detect danger.
Abilities
Edit
Siren Doubles as a holographic projector.
Hands emit beams that repair robotic circuitry.
Optic Sensors can detect and assess damage levels.
In ambulance mode, siren flares emit infrared beams.
In ambulance mode, he has enhanced exostructure to protect passengers.
In ambulance mode, he is equipped with polarized windshield and side windows.
Intelligence: 4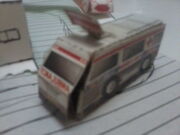 Endurance: 2
Strength: 2
Speed: 3
Special Skill: 5
How to Make Sagip
Edit
Cut out all patterns in the toycard. Follow the

green lines

.
Fold all the Broken lines.
Glue main body to itself.
Glue arms L & R to main body.
Glue back part to main body as labeled.
Glue tires 1-4 to main body as labeled.
Glue siren to itself.
Glue siren and top part to roof as labeled.
Sagip means "To Save"
Sagip is the first Mini Foldabot to be reissued into a bigger Toy version
Sagip is also the first of the minis to have the gender revealed
Sagip is also appeared in the Foldabots toy book 5 but he is now eqquiped with repairing tools 
Sagip also appeared in  comics new hope.He was the one who repair buhawi when killed using repair tools.
Ad blocker interference detected!
Wikia is a free-to-use site that makes money from advertising. We have a modified experience for viewers using ad blockers

Wikia is not accessible if you've made further modifications. Remove the custom ad blocker rule(s) and the page will load as expected.