Ractitron 
is a quite, reasonable and innocent naive one Foldabot.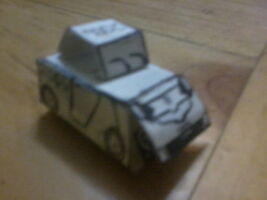 He's one innocent Lutabot that he escape the dumpsite and then they enters the city of Neo-Republika and then he pushes Patrol but he's not mad at all he's a good-fellow and trained him to be a Foldabot, he's no sobbing and he likes to step up and battles everyone in highway and he really knows what Nuno think he's a car but he transforms into mini mpv in alternate mode. He's so neat and not so lazy, a rouge strategist of the Foldabot. When Ractitron attacks like a hitman, he know the Lutabot better dock and covert.
​Horsepower: 89hp
Body style: 5-door hatchback
Transmission: 6-speed manual
Abilities
Edit
Highly dense logic circuit storage capacity.
Enhanced micro-optic capability for probing and hypnotic circuitry.
He has the turbodiesel engine motor.
The life-giving agimat on his chest compartment.
Thought it says "Mini car" he actually based [1].
Ad blocker interference detected!
Wikia is a free-to-use site that makes money from advertising. We have a modified experience for viewers using ad blockers

Wikia is not accessible if you've made further modifications. Remove the custom ad blocker rule(s) and the page will load as expected.