Praseodynous is a kind Foldabot who is nearby was one of greatest legendary Nuno as a car mode. Now he has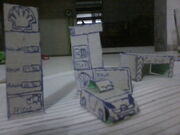 a
power to transformed into Subaru R1 in alternate mode. Praseodynous was the taxi driver and take a passengers unexceptedly by this Foldabot from the clutches of the Lutabots 
Xi-Takk
 and 
Bangga
. He also the same abilities like his one expert nerdiest Nuno.
He lives at Shell Gas Station in Neo-Republika.
Abilities
Edit
​FOLDABOT MODE
Edit
Highly dense logic circuit storage capacity.
His lightning powers to energize heals.
Thundersparks blasts with his finger.
An agimat-living on his chest.
KEI CAR MODE
Edit
He has supercharged engine motor.
In car mode, he has air-conditioned cooler.
Ad blocker interference detected!
Wikia is a free-to-use site that makes money from advertising. We have a modified experience for viewers using ad blockers

Wikia is not accessible if you've made further modifications. Remove the custom ad blocker rule(s) and the page will load as expected.