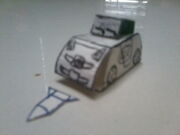 Praseobolt is the robot-speaking Foldabot.
He actually a Robot accent with his voice, he's actually an electric car in alternate mode.
He lives in outer space who fight those aliens with pollutant, while Lu-Sho gave the aliens with lutant and makes a powerful monstrous creatures. He was a hunter to fight aliens from outer space.
Horsepower: 63hp
Body style: kei car
Engine: I4 Supercharged
Transmission: iCVT
Abilities
Edit
He has engine made of laminated lithium-ion batteries.
His charger can borrow to Lupet.
He has two-seater passengers.
He has cannon guns with lead bullets.
His head was actually robot-style.