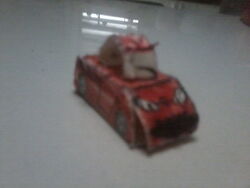 Porschot is a dignified member of the Porschebots.
Porschot was the only high-offensive and accelerate of his absolute speed, they can dash with his legs and his hands can he uses fire technique, his natural refreshments talented while working his power mind to defense his paint job. He transforms into sports car in alternate mode.
Porsche 911 GT1 Strabenversion
Horsepower: 537hp
Body style: 2-door coupe
Engine: flat-6 twin turbo
Transmission: 6-speed manual
Abilities
Edit
He can dash with his speed boots
His punches can hits speed attack.
He has turbo engine motor.
His powerful gatling gun with his right hand.
Ad blocker interference detected!
Wikia is a free-to-use site that makes money from advertising. We have a modified experience for viewers using ad blockers

Wikia is not accessible if you've made further modifications. Remove the custom ad blocker rule(s) and the page will load as expected.