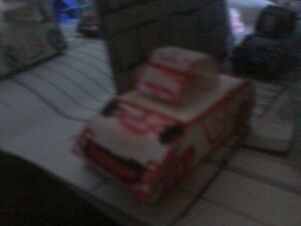 Porschanity is a humble and patriotism member of the Porschebots.
He was a speed car and makes a tough powerful like Kidlat but he's got a solid heart of gold to helping kids and he likes to ride everyone. But everyone his personality have friendship and humble patriotism for maybe his important fight those speed or strength Lutabots for getting pressureness.
It transformed into sports car or coupe car in vehicle mode.

Horsepower: 380hp
Engine: 3.6 L H6
Body style: 2-door coupe
Transmission: 6-speed manual
Abilities
Edit
His spoiler acts like a powerful baton.
He has air-cooled conditioner.
He has oil spill located his muffler.
He has flamethrower that acts with a muffler.
He has supercharged or premium engine.
Ad blocker interference detected!
Wikia is a free-to-use site that makes money from advertising. We have a modified experience for viewers using ad blockers

Wikia is not accessible if you've made further modifications. Remove the custom ad blocker rule(s) and the page will load as expected.