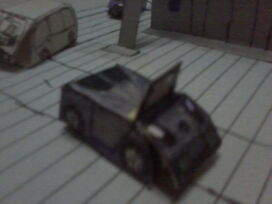 Porschacruel is a member of Porschebots.
He was a platoon operation to locate any target with his taser gun and he was a spy to keep sneak up with any attacks by pisses him off to be not hits with his sneak attack, he has not idea to be impatience for his moves but he's not cruel, he's trying to be attacking pain or distress Lutabot by getting hurt with his taser gun with his gadget.
His speed have accelerance and has powerful style with his paint job, however he's a platoon has no accusation.
It transformed into supercar in vehicle mode.
Horsepower: 661hp
Body style: 2-door roadster
Engine: 4.6 L V8
Transmission: 7-speed dual-clutch
Abilities
Edit
Can wield a taser gun.
He has V8 engine motor.
His muffler acts like a flamethrower.
He has invisibility vision.
An agimat-living on his chest compartment.
Ad blocker interference detected!
Wikia is a free-to-use site that makes money from advertising. We have a modified experience for viewers using ad blockers

Wikia is not accessible if you've made further modifications. Remove the custom ad blocker rule(s) and the page will load as expected.