{{ |name = Pasada
|image =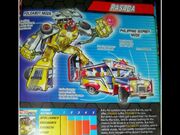 |caption = |gender = Male |alternate mode = Jeep |appeared in = December 2007 |preceded by = Siklo |followed by = Berdugong }}
Pasada is a Yellow, Gray and Red Foldabot that appeared in the December 2007 issue of the K-Zone magazine.
Appearance
Edit
Pasada appears as a yellow, gray and red Foldabot that transforms into a jeep in alternate mode. Like all of the other Foldabots, he has a life-giving agimat that glows in his chest compartment. He doesn't live by the rules and is looking for the chance to let loose in a crazy joyride. He is one of the strongest Foldabots in battle, and in his vehicle mode, he can swiftly transport humans away from danger.
Sun visor with built-in solar cell.
Audio disruptor waves from his boombox can damage electronic devices.
Repulsor rays emanate from front grills.
Can throw his spare tire as a projectile
Intelligence: 1
Endurance: 4
Strength: 5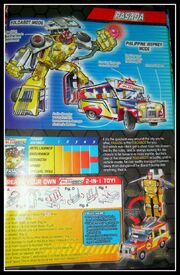 Speed: 4
Special Skill: 3
How to Make Pasada
Edit
Cut out all patterns. Follow the

green broken lines

.
Fold the

red lines

.
Glue Roof to Main Body. Do the same for the Hood.
Glue the visor to the Roof.
Glue Tires A, B, C & D.
Glue the Spare Tire.
Pasada is similar to a Sarao Motors jeep.
The cover of his extra tire has a K-zone decal.
Karera must have known Pasada during the Dark Ages since he called him "bro" when he came out of the Balete tree.
Pasada's Jeep colors are the colors of the Philippines being Red, Blue and Yellow. Though White isn't present.
Ad blocker interference detected!
Wikia is a free-to-use site that makes money from advertising. We have a modified experience for viewers using ad blockers

Wikia is not accessible if you've made further modifications. Remove the custom ad blocker rule(s) and the page will load as expected.