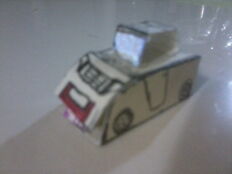 Pajerick is a truthful Foldabot.
He was a SUV to take a ride and he hates scratches his paint job and teach a lesson for a fight and making the truth for getting surrender by the Lutabots one more time.
Personality
Edit
Pajerick is a high-achievement, serious, truthful that make to clear all scratches his paint job or other scratches of their own way.
It transformed into mini suv in vehicle mode.
Horsepower: 145hp
Body style: 5-door SUV
Engine: 2.0 L
Transmission: 4-speed automatic
Abilities
Edit
He has gasoline motor.
He has dirt rally tires.
Photon blasters.
Flash blasters.
Blue beams out of his eyes.
Ad blocker interference detected!
Wikia is a free-to-use site that makes money from advertising. We have a modified experience for viewers using ad blockers

Wikia is not accessible if you've made further modifications. Remove the custom ad blocker rule(s) and the page will load as expected.