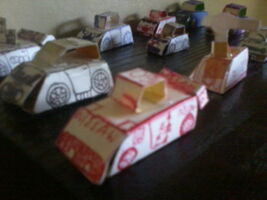 Nismozeir is a cocky race car Lutabot.
His cocky to cut enemies with his poison blade and cuts metals by the end of state. His personality have very cocky, making that his downfall statement of his own way. He underestimates his enemies and uses his speed and makes his portal to win again. He transforms into coupe car in vehicle mode.
Nissan 240SX Fastback 94'
Horsepower: 140hp
Body style: 2-door coupe
Engine: 2.4 L
Transmission: 5-speed manual
Abilities
Edit
His tattoo with stars made of "China" flag modeled has glows and makes energize his power agimat.
His spoiler acts like stinger blade.
He has diesel engine motor.
He has pop-up headlights with magnesium flash.
Ad blocker interference detected!
Wikia is a free-to-use site that makes money from advertising. We have a modified experience for viewers using ad blockers

Wikia is not accessible if you've made further modifications. Remove the custom ad blocker rule(s) and the page will load as expected.