Neodyian
is the wind illusionist Foldabot.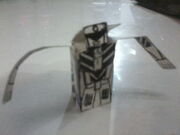 Despite the fact he deliquently on his work that his powers with tornado wind and blasts around this forests, but he ain't no good, but the eagle holds with him and tells him that he ain't no good his wild tornado on his hands and survives. He transformed into eagle mode and Buhawi to teach him how to be a hero. Someday he helps with his Foldabots and helps everyone to investigate his hands and remove to changes his new gloves. His hands have new powers that he blasts with wind elements.
He transformed into Nexco elf truck mode.
Abilities
Edit
Has a carriage to carries people with air conditioner.
His glasses with optic blasters.
Has a carbon body with silvery metal.
His arms to blasts with windy powers.
His technique with a whirlwind powers.
His agimat-living on Neodyian's chest plate.
Ad blocker interference detected!
Wikia is a free-to-use site that makes money from advertising. We have a modified experience for viewers using ad blockers

Wikia is not accessible if you've made further modifications. Remove the custom ad blocker rule(s) and the page will load as expected.