Mustanouge is a Foldabot and he's truthful and impassion to transformed into coupe car in alternate mode. He is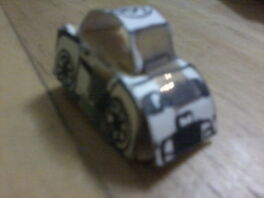 one truth and generosity of Neo-Republika and he lives the highway road.
Everyone he's one spy-gadgeteer like his powerful weapons with his concealed gun located in the left door and the shot-armed gun located in the right door in car mode. He's the agent-like professional or even supposed have circumstances forced him to pass crucial information to Shelbinator and Shelbitron, whom the two Mustangbots mistook for his clever weaponry.
Horsepower: 542hp
Body style: Coupe
Engine: V8
Transmission: 6-speed automatic
Abilities
Edit
Foldabot Mode
Edit
His concealed gun can wield his left arm.
His shot-armed can wield his right arm.
The life-giving agimat on his chest plate.
His hands have powerful karate skills.
Coupe Car Mode
Edit
He has V8 engine motor.
He has 4-passenger seats and 2-door coupe
His concealed gun has located in the left door.
His shot-armed has located in the right door.
Ad blocker interference detected!
Wikia is a free-to-use site that makes money from advertising. We have a modified experience for viewers using ad blockers

Wikia is not accessible if you've made further modifications. Remove the custom ad blocker rule(s) and the page will load as expected.