Motulzor 
is a race car Lutabot. He was one bad attitude drifter that he likes to speed on the highway and makes a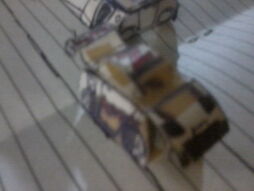 highway robbery holds a bag of money with a pack of criminals and runs out that makes the new opportunity.
Nissan Nismo Motul 350Z Drift Car
Horsepower: 656hp
Body style: 2-door coupe
Engine: V6
Transmission: 5-speed automatic
Abilities
Edit
He has "Motul" designed with his paint job.
He has reflect on his one hand.
His spoiler turns into a bow and an arrow made from concentrated poison point.
He has sport-tuned motor.
Ad blocker interference detected!
Wikia is a free-to-use site that makes money from advertising. We have a modified experience for viewers using ad blockers

Wikia is not accessible if you've made further modifications. Remove the custom ad blocker rule(s) and the page will load as expected.