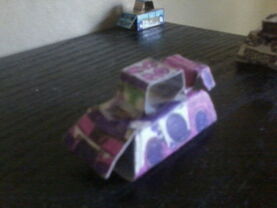 Minolizer is a scorching Lutabot.
He's a sneakiest, evil, bad mood, and fighting dirty for his sneaky attack with his powerful spoiler that acts like a blade with his lutant smoke. He take him out of nowhere in every race car sessions all by himself with his laser or beam located his headlights or taillights or muffler from getting worst.
It transformed into racing car in alternate mode.
Abilities
Edit
He has racing-tuned motor.
His spoiler acts like a blade with lutant smoke.
His lasers or beams located every shot.
His wheels to perform with his smokescreen.
Minolizer is actually modeled a "Nissan Skyline GT-R".
Ad blocker interference detected!
Wikia is a free-to-use site that makes money from advertising. We have a modified experience for viewers using ad blockers

Wikia is not accessible if you've made further modifications. Remove the custom ad blocker rule(s) and the page will load as expected.