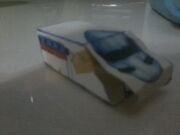 Metalsor 
is the custody Foldabot and his sub-member of the 
Rilecons
.
Appearance
Edit
Metalsor is a white, red and blue Foldabot that transformed into high-speed train in alternate mode. He is majestic, impression and dignified of his side, he's the traitor of Riles, the ruthless train that he pushes Metalsor has been dictated and he knew that the way upon his statement his majestic words are passionate.
Abilities
Edit
His double fists have powerful fire prolonged.
His speed and skillful turns into train mode has dashes into 2.0 km/h/s.
Ad blocker interference detected!
Wikia is a free-to-use site that makes money from advertising. We have a modified experience for viewers using ad blockers

Wikia is not accessible if you've made further modifications. Remove the custom ad blocker rule(s) and the page will load as expected.