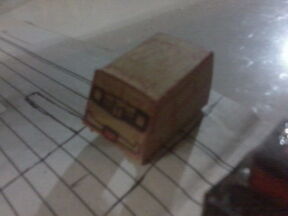 Meeneklus is a minicab or truck was a brown Foldabot.
He is the grandmaster of the minitrucks except those jerks are microcars are evil and the enforcer was Nuno.
Horsepower: 20hp
Body style: pickup truck
Engine: 359 cc
Transmission: 4-speed automatic
Abilities
Edit
His red gnome metal hat to toss and acts like a drill.
He carries all things and give his strength.
Ad blocker interference detected!
Wikia is a free-to-use site that makes money from advertising. We have a modified experience for viewers using ad blockers

Wikia is not accessible if you've made further modifications. Remove the custom ad blocker rule(s) and the page will load as expected.