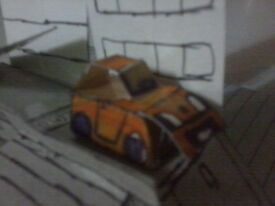 Logzerate is a orange Foldabot. He's a playful orange kei car and can sometimes be mischievous andhow awkwardly with not talking his former friend named Hsr-tinel.
Horsepower: 66hp
Body style: 3-door hatchback
Engine: I4
Transmission: 3-speed manual
Abilities
Edit
He has tackle to pound minibots or enemies.
He has bolt tackle can attacking with thunder.
He has I4 engine motor.
He has lightweight armor.
Ad blocker interference detected!
Wikia is a free-to-use site that makes money from advertising. We have a modified experience for viewers using ad blockers

Wikia is not accessible if you've made further modifications. Remove the custom ad blocker rule(s) and the page will load as expected.