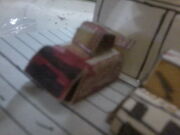 Loctitator is a forcer member of Nismobots.
He's so awkwardly and intelligence his British accent.
He was the powerful bishop to helps citizens of Neo-Republika and helps together while Lu-Sho tries to destroy the city.
His competition makes good and he tries so lucky to finish first place but however he might second place to trust seems good.
He was the race car in alternate mode.
Horsepower: 556hp
Body style: 2-door coupe
Engine: 2.6 L
Transmission: 6-speed manual
Abilities
Edit
His shoes have prolonged burn.
His hands have fire technique that glows.
His spoiler acts like a fire spear.
Ad blocker interference detected!
Wikia is a free-to-use site that makes money from advertising. We have a modified experience for viewers using ad blockers

Wikia is not accessible if you've made further modifications. Remove the custom ad blocker rule(s) and the page will load as expected.