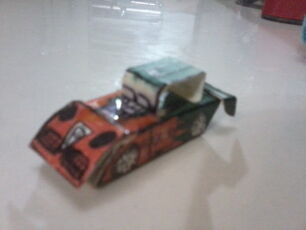 Kabutoticon is an evil dark sports car Lutabot.
He's got some serious grudge against the Alfabots when he feels badly and the most important to make the baddest drifting car ever seen was one powerful dark side and making a side for the two ratings: Good robot for the outside, pure evil on the inside.
It transformed into sports car in alternate mode.
Alfa Romeo TZ3 Zagato Corsa
Horsepower: 420hp
Body style: 2-door coupe
Engine: V8 4.2 L
Transmission: 5-speed manual
Abilities
Edit
His spoiler acts like a katana with his dark powers.
His dark powers have sensitive hits.
He has dark photon blasters.
He has nitro blasters with his speed engine.
His skull deco that energize his dark skills.
Ad blocker interference detected!
Wikia is a free-to-use site that makes money from advertising. We have a modified experience for viewers using ad blockers

Wikia is not accessible if you've made further modifications. Remove the custom ad blocker rule(s) and the page will load as expected.