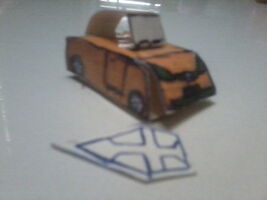 Jazzo is an orange hatchback car was Foldabot police officer. He is one kindness and prideness policebot who tries to kill Lu-sho and saves with his eldest Foldabot Nuno like Honda Jazz model protect the Foldabots as he lands on the city platform with a crime scene objected.
He has shield has named "Argon shield" made of iron of steel and he has safeguard protect his paint job from getting scratches.
It transformed into hatchback in alternate mode.
Horsepower: 90hp
Body style: 5-door hatchback
Engine: 1.4 L Petrol
Transmission: 5-speed automatic
Abilities
Edit
Photon blasters.
He has argon shield made of iron.
He shoots with machine gun.
He has safeguard protect from getting scratches paint job.
His headlights made of argon lights.
Ad blocker interference detected!
Wikia is a free-to-use site that makes money from advertising. We have a modified experience for viewers using ad blockers

Wikia is not accessible if you've made further modifications. Remove the custom ad blocker rule(s) and the page will load as expected.