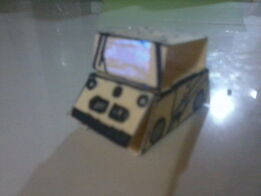 Iselbolt is a nerdiest Lutabot or not evil inside.
He's one big nerd genius bot' to make more enemies and victorize battle. His personality have stubborn and arrogantly disobey himself.
He transformed into microcar in alternate mode.
Horsepower: 13hp
Body style: Pick-up
Engine: 298 cc
Transmission: 4-speed manual
Abilities
Edit
He has thunderspark to paralyzed thunder.
He has thunderbolt to shock enemies.
He has reverse manual.
Ad blocker interference detected!
Wikia is a free-to-use site that makes money from advertising. We have a modified experience for viewers using ad blockers

Wikia is not accessible if you've made further modifications. Remove the custom ad blocker rule(s) and the page will load as expected.