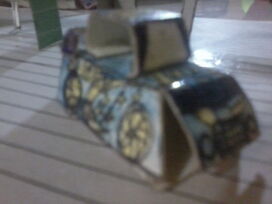 Imprezzure is a blue compact car or blue rally car Foldabot. He's calm cool and collected his spray apinting to choose one paint instead, or maybe he's spraying all around the garbage site at Neo-Republika and takes these airplanes to make graffiti style maker. But Sigwa & Delubyo hates painting gets rid of him and they shoots him but his shield to protect his paint job all by himself. He transforms into compact car in alternate mode.
Subaru Impreza WRX Rally Car 96'
Horsepower: 298hp
Body style: 2-door coupe
Engine: 2.0 L
Transmission: 5-speed manual
Abilities
Edit
His paint jobs has glows on his deco art that makes energize power of his ultimate agimat force.
His spoiler acts like a fencer blade.
He has shield to protect his paint armor.
Ad blocker interference detected!
Wikia is a free-to-use site that makes money from advertising. We have a modified experience for viewers using ad blockers

Wikia is not accessible if you've made further modifications. Remove the custom ad blocker rule(s) and the page will load as expected.