Impeksyon
200px
Sugabot
Statistics
Gender
Male
Alternate Mode
Fighter jet
Appeared In
Mediplast box
Preceded by
Non
Followed by
Non
Impeksyon is a green Sugabot jet and he turns into Sugatron's left arm.
Appearance
Edit
He is a Sugabot with a cone in his head.His arms are the same with Sigwa and Delobyo.
How to make Impeksyon
Edit
1.
2.
3.
4.
5.
Impeksyon means infection.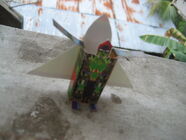 Ad blocker interference detected!
Wikia is a free-to-use site that makes money from advertising. We have a modified experience for viewers using ad blockers

Wikia is not accessible if you've made further modifications. Remove the custom ad blocker rule(s) and the page will load as expected.