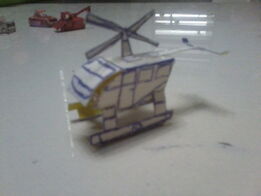 Impachitron a.k.a Whirly-Whirly. He was a white helicopter Foldabot. He plays the role with his partner Tutubi. He is a skilled and patient for his own safety-ness, able to keep control even his adverse condition that he was awesome for his skills. He makes his rescue missions from getting away those rainfloods. And it transformed into Kawasaki BK117C-2 Helicopter in alternate mode.
Personality
Edit
Impachitron is an intern and makes rescuing from all these people to clear all floods.
Abilities
Edit
Bandage-powered missiles.
Flash blasters.
He can produce aero.
Sound recorders and sonar wave emitters make Impachitron an intelligence spy machine.
Power to control the flood.
He uses safeguard that protect from those floods.
Ad blocker interference detected!
Wikia is a free-to-use site that makes money from advertising. We have a modified experience for viewers using ad blockers

Wikia is not accessible if you've made further modifications. Remove the custom ad blocker rule(s) and the page will load as expected.