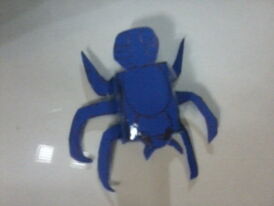 Hiblaticon was a skilled concentrating widow spider Foldabot that he has blue armor protect from getting damage, but he's one thing for his own makeover to look no excuses by physically to fight for many insects like other things with these lutabot insects for fighting like thugs and he has shots with his web on his mouth.
His personality have fearless, good and high-wicked for his extreme even extraordinaire with his skills.
Abilities
Edit
Foldabot mode
Edit
His hands have blade to cut enemies.
His punches have powerful damage.
His eyes have stopped hypnotizing.
An agimat on his chest plate.
Widow Spider mode
Edit
His mouth have web shot.
He has powerful shield with his armor protection.
Hiblaticon root word hiblat means tangle.
Ad blocker interference detected!
Wikia is a free-to-use site that makes money from advertising. We have a modified experience for viewers using ad blockers

Wikia is not accessible if you've made further modifications. Remove the custom ad blocker rule(s) and the page will load as expected.