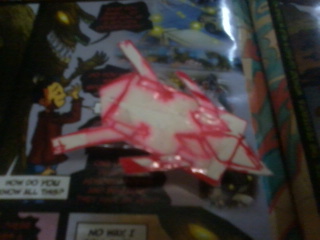 Hawkeroid ia an enforcer and violence Foldabot.
He wants to shoots enemies with one lasers out a time and finds what even does the Lutabots makes the entire garbage center grudge for making a battle with Lu-sho.
His personality have justice, force and peaceful for feuding with other pollutant robots.
It transformed into Lockheed F-117 Nighthawk in alternate mode.
Abilities
Edit
Photon blasters.
Smokescreen to blinds over Lutabots.
Gatling guns.
Nuclear bombs.
Laser-guided bombs.
Ad blocker interference detected!
Wikia is a free-to-use site that makes money from advertising. We have a modified experience for viewers using ad blockers

Wikia is not accessible if you've made further modifications. Remove the custom ad blocker rule(s) and the page will load as expected.